The last article reported that people are buying their pets without real understanding the responsibilities of owning a pet.
This article will report about "selling a pet" to those people.
Many of pet stores' employees are part-time so they don't have enough knowledge about dogs.
Here are some stories from the store's employee…
……………………………………………………
"For instance, the part-time worker recommended a Great Dane for a couple who lived in a small apartment.
He just wanted to sell the dogs that were in the store at that time. There are lots of stores like that lately."
……………………………………………………
"Some stores sell Chihuahuas for very high prices just because they are popular now…may be it should be….
Not only that, sometimes they sell Chihuahua-mixes saying they are pure breed. Some of the Chihuahuas grow to the size of a mid-size dog. Some stores are really bad. "
…………………………………………………….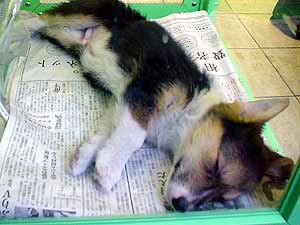 Puppies are put in small cages….
(*image photo*)
"Some stores sell deformed puppies saying "rare breed". When people find out that the puppy is not rare but sick, it's usually too late to return him. It's just too hard to do that because they already are attached to the puppy. Besides, any pet store won't allow people to return the animal that was bought because they are afraid returned animal can carry diseases."
………………………………………………………
"We had to bury some dogs that died from contagious diseases such as Parvovirus and Gestembar…near a river. We knew it was dangerous for others but we just had to listen to our boss. "
………………………………………………………
Pet stores usually kill puppies that are several months old because they are "not worth selling".
To keep puppies small and looking young, some stores feed food just enough to keep them alive.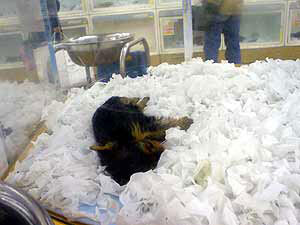 some stores don't even feed enough
(*image photo*)
The store worker, who was interviewed, said "I wonder if the stores understand that pet = living life. Big pet shops usually
put emphasis on making money."

The pet store worker told us side stories: There are mailboxes like boxes in Hokkaido where you can leave unwanted dogs in.
写真Small dogs are put in this box and big dogs are tied onto the box.
The special company will come and pick dogs to kill them later.
There were same boxes in Miyagi but enough people complained that the town had to take the boxes away. The town started program which finds new homes for those dogs in need. In Hokkaido, they still have these boxes…Obihiro city in Hokkaido took the boxes away since July of 1993.
There are places that train your dog but sometimes they don't do anything except feeding little food and water in small cages
← Unwanted dog mailbox…

As for those "train your dog" places which don't train your dog, usually treats their customers badly.
"We did train your dog right. It's your fault that your dog is not behaving right." is the best excuse that the
company could give to you if you complain.
There are more problems with the pet stores such as putting puppies in dirty cages.
The problems are all from not treating dogs as living breathing life.
Many think pet=money making merchandise instead of pet=living life.
I hope both people, who buy and sell pet, will never forget that pets are alive and should be treated humanely.
(TanteiFile)